Bios/Credits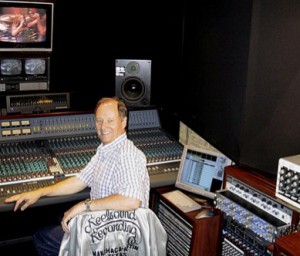 Bio-graph of Malcolm H. Harper, Jr.
Owner/President
With an extensive and varied background in the audio recording industry, Malcolm Harper has gained both experience and recognition. Harper's credentials include live concert recording, motion picture, television specials, DVD / CD, streaming and numerous radio broadcast. Fourteen of the recordings he engineered have received Grammy nominations with five winning. Reelsound has received Four Ampex Golden Reel Awards, Six Gold and Two Platinum Awards and was nominated two years for MIX Magazine's Technical and Excellence Award in Remote Recording. His live engineering for the McDonald's "World Children's Day" broadcast won an PRIME TIME EMMY and engineering on "The Oprah Winfrey Show from Las Vegas" won a DAYTIME ENTERTAINMENT EMMY. Mr. Harper has served on the Texas Chapter of The Recording Academy Board as President, Trustee and Governor. He lives in the Hill Country near Austin, TX with his wife, children and grandchildren close by.
Credits
Grammy Nominated Recordings:
James Cotten Live: James Cotten
Ruthie Foster; Big Band; "Live at the Paramount"
The Last Real Texas Blues Band: Doug Sahm
Live En Concierto! : Fiebre
A Little Unprofessional: Ron White
EnVivo Puro Party Live2: Jaime y Los Chamaco
Celebration of Live,Vol.1: LitleJoe&La Familia
The Strom Is Over: Bishop TD Jakes and the
Potter's House Mass Choir
Say Yes: FloetryFloacism"Live"
You Can't Fix Stupid: Ron White

Grammy Winning Recordings:
Selena Live: Selena
Whatcha Lookin' 4: Kirk Franklin and Family
A Wing and a Prayer: Bishop TD Jakes and
The Potters Mass Choir
Intimamente En Vivo Live: Intocable
Hello Fear: Kirk Franklin

Prime Time Emmy Award:
"World Children's Day Special": ABC
Daytime Entertainment Emmy Award:
"The Oprah Winfrey Show": Syndicated

Recent Releases and Clients:
Final Four Broadcast from Houston with "Kings of Leon". Final Four Broadcast New Orleans "The Black Keys", Final Four Broadcast Dallas "Kid Rock", "The Gulf Is Back" with Ricky Skaggs, Lonestar, Taylor Hicks, Terri Clark, Bob Bice, Ace Young, Kyle & Chris Massey, Drake Bell and David Hasselhoff: CW Network (see link) http://www.youtube.com/watch?v=CDm62XgurOk
Houston Livestock Show & Rodeo with George Strait, Lady Antebelum, Ariana Grande Mary J. Blige, Jonas Brothers & Demi Lovato, Pesado, Tim McGraw, Sugarland, Billy Currington, Gladis Knight, ZZ Top, The Band Perry, El Trono De Mexico, Janet Jackson, Kiss, Kid Rock, Gary Allen, Eli Young Band, Black Eyed Peas, Selena Gomez, Taylor Swift, Justin Bieber, Eric Church, Kenny Chesney, Blake Shelton, Jason, Alan Jackson, Pitbull, Jason Aldean, Miranda Lambert, Hunter Hayes, Darius Rucker, Dierks Bentley, La Arrolladora Banda El Limón, Zack Brown Band, Brad Paisley, La Maquinaria Norteña, Keith Urban , Florida Georgia Line, Rascal Flatts, La Leyenda, La Arrolladora Banda El Limon, John Legend and Brooks & Dunn. Live Concert for "The Killdares", ACL Music Festival for Springboard Productions; featured artist:" Kings of Leon, Pearl Jam, Dave Matthews Band, Meg Meyers, Twenty One Pilots, A$AP Rocky, Drake, Jidenna, The Stokes, Foo Fighters, Echosmith, Of Monsters and Men, Billy Idol, Royal Blood, Tame Impala, Glass Animals, Lord Huron, Ben Howard, The Levon Helm Band, Citizen Cope, Mute Math, Alberta Cross, The Dead Weather, Toadies, Clutch ,The Dodos, Thievery Corporation, Medeski, Martin & Wood and School of Seven Bells". HARPO Productions; Oprah Winfrey at the TX State Fair with Martina McBride. Riverwalk Jazz 21st Anniversary with Dick Hyman, Shelly Berg, Topsy Chapman, Vernel Bagneris and the Jim Cullum Jazz Band,
"Prmios Texas Awards Show" w/Olga Tanon, Reyli, Bobby Pulido, Makano, K-Paz, Yahir, El Guero, Vallejo and Tati hosted by Sissi and Carlos Calderon for Univision Network. Lubbock "Centennial Celebration" featuring
Mac Davis, David Gaschen, Kenny Maines, Virgil Johnson, Tom Braxton, Jennifer Smith, andy Wilkinson, Ralna English, Terry Allen, Jay Boy Adams, Joe Ely, Terry Cook, Richie MacDonald, The Lubbock Orchestra and Chorus, "Freedom Over TX" with Clay Walker. Aaron Watson: "Live, Deep in the Heart of Texas", Maze featuring Frankie Beverly, Bob Schneider, "Jo Dee Messina, Miranda Lambert and Sara Evans live July 4th broadcast Freedom over Texas", Houston, TX: ABC, "Cher and Tina Turner in Vegas Special": Oprah Winfrey Show, Harpo Productions. NCAA Final Four Music Webcast for AT&T: Fall Out Boy, The Roots and Ludo.
"Retro Live! " Las Fenix
Porgy and Bess Live, The Jim Cullum Band
U.F.O.S at the Zoo: The Flaming Lips
Then and Now: Asleep at the Wheel
Foiled For the last Time: Blue October
Back to Zion, Austin COGIC Mass Choir
SXSW Music Festival: BBC Radio 2 Live
Montgomery-Gentry,4th of July: ABC TV
Zion Live: Zion Hill Sanctuary Choir
High School Musical Live in Concert: DVD
Keb' Mo', BeBe Winans, Mika, Amy Winehouse, The Bravery, Hannah Montana, Los Lonely Boys, Gretchen Wilson, Sheryl Crow, KEM, George Strait, Natalie Cole, Pesado, Pixies, Arctic Monkey's, 3 Doors Down, Incubus, Queens of the Stone Age, Puddle of Mudd, Modest Mouse and The Bravery.